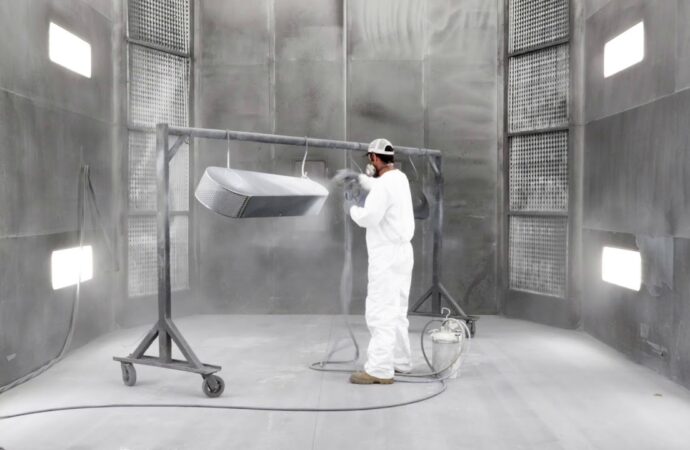 Industrial Painting has a significant difference from Residential or Commercial Painting. For one, Industrial Painting leans toward functionality rather than aesthetics. Often, it is found that industrial painters work in areas where only authorized personnel such as technical employees, partners, business owners, or suppliers have access. Areas that call for industrial painting are not designed to impress. For example, industrial painting at a warehouse. It is to ensure that goods stored, machinery, and apparatus of the warehouse are painted to function. This means that the target of industrial painting is that the product painted is durable and able to withstand harsh conditions. It is not a secret that industrial paints may sometimes not be as appealing to the eyes. Did you know that industrial painters may also specialize in areas such as automotive painting or machinery painting? This is depending on the type of industrial paint needed.
For your information, here are some industrial application areas of industrial paint. Can coatings, Marine coating and Maintenance, and a protective coating. Can paints can help prevent the can from reacting with the inside content of the metal can. The paint done on the outside of the can is merely for aesthetic purposes. Marine coatings are usually used on ships, ferries oil rigs, and marine machinery. Marine coatings ensure that what coats will not experience corrosion and fouling due to the salt of the seas. Maintenance and protective coatings, however, are applied to steel structures such as bridges, petroleum, and chemical plants to ensure that they do not succumb to wear and tear or high corrosion. At least, not so soon.
Do you have the need for industrial painting? Why not engage with us, Woodlands, Professional Painting Contractors? Cast your worries and doubts away, because now, you have a team of industrial painters who will work long and hard to meet industrial standards. Our team is well-versed in industrial paint. We are very knowledgeable and experienced in industrial standards. 
Did you know that industrial paint is divided into three types of coating? Well, now you do. Metallic coating, Organic coating, and Inorganic coating. Each of these coatings has its own pros and cons. You may want to leave it to the experts to worry about.
Reach out to us today to have your industrial painting done! Woodlands is the only Professional Painting Contractor you would ever need in your life.
We have the right knowledge and expertise to work on your painting project. There is nothing that is impossible when it comes to the implementation of painting works. As a licensed painting company, we comply will all the legal requirements in our work. We also have an insurance cover for all our contractors.
Here is a list of our services you can get at Woodlands TX Professional Painting Contractors:
We service all of Texas. Below is a list of cities most of our services are at on a daily basis: